The 2002
McMenamin Tour of
Ireland!!
Brought to you by Dos Puntos!
It all began with Aer Lingus and their highly trained pilots.
A quick jaunt from BWI to Boston, Logan, Then off to the land of Eire.
Day 1. The Arrival.
The terror began almost right away. Since most of the world drives on the right side of the road, those who don't are obviously driving on the wrong side of the road. In this case, we were on the wrong side of the road. But when in Rome... (we survived.)
The Irish invasion group consisted of Megan
, Ben
, Joyce
, & me
.
Day 1(1/8/2002) : It all began in Shannon. But that was as short stay as we grabbed our Puntos and hit the road. Now, here is one little hint for those of you from used to driving on the right side of the road. Bring a travel companion. I repeat, make sure you have a passenger. Reflex will put you on the right side of the road. This is where the partner is critical. "stay left, Stay Left, STAY LEFT!" Very important. There is a second benefit in Ireland. Small roads make a travel companion handy to shout "EDGE!" as you are about to go over it. Now there is also another important point to driving in Ireland (and the UK) a very nerve wracking road hazard called the roundabout. Trust me, after you have experienced the roundabout, you will never complain about any US intersection again.
Jet-Lag ALWAYS makes the first day one of minimal accomplishments. After the rather harrowing drive to Galway, we found our B&B, a place for an authentic Irish breakfast (OK, ham & eggs, but it was in IRELAND!!) and then a place to crash for a few hours. We finally did some exploring after we woke up. Galway is a rather nice place, or so I am told. At this time of year, the sun sets early, and our touring was limited. We did see a few historical sights, but what I found to be most interesting was the church yard monument with the Claddagh, and the skull & bones side by side.
. The Claddagh, the Irish sign of true love... and the sign of death. Hmm, go figure. (Can you say cynic?) But in reality, the most important part of the evening had to have been the acquisition of FLASHY walking gear.
Day 2 (1/9/2002) : A little sleep can do wonders in catching you up with the time zone you find your self in. The B&B was nice, even though our stay was short. It is called the Roncalli House, and it was good enough for us as well as a president's daughter.
Next we headed out of Galway, past their Cathedral.
Then on the road again. The first stop was a castle. (Well, they called it that.) In the town of Portumna, they had a rather large manor, and since it was the biggest one around, it earned the title of Portumna Castle.

The place was closed for the season, so all we could do was sneak around on the outside. There were a few good shots.
and
but only a few. The next stop was one of the must see place's on the trip. The Rock of Cashel.
This place is not actually a castle. (Click on the link & learn) But it is indeed an impressive landmark in Tipperary. A serious picture place.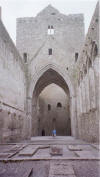 The day did not end with Cashel tho. A mad dash to yet another castle. When they say the butler did it, that is definitely the case here. Cahir Castle was built by the Butler Family.
This is one of those rare old castles in relatively good condition.
Since this is the 'Extended" Ireland trip page, I will ramble on about Irish castles. In prepping for this trip, we all were reading about places to go and see. This was a castle and pub trip, so we read about the castles, and they shared one common fact. "This was a very prominent castle, until Cromwell blew it up!...", "This castle was one of the most fortified... 'til Cromwell tore it down!" , "This Castle stood for hundreds of years, and then Cromwell..." you know where this is going. Cahir is relatively well maintained cuz when Cromwell showed up, they had dinner waiting for him. Still, it was a neat place, and good for a few more photo op's.
It was here we split our forces. Ben and Megan had been to Ireland for their honeymoon, so they opted to head out to Kilkenny. Meanwhile, Joyce & I had business in Cork. Dinner was at the Blue Haven in Kinsale, a very nice place to have a meal, with the best Irish Coffee we found on that island. The day ended in Innishannon at an almost impossible to find B&B. Long narrow dark winding foggy roads being driven on the wrong side is a great way to look aged. More grey hairs by the minute. We survived.
Day 3 (1/10/2002) : OK, the big day was here. I was a day older!!! Then again, so was the rest of the world. But this was day, so let the fun begin. The big plans for this day was to visit a rater well known Irish landmark, Blarney Castle.
Blarney is a great place to visit. The castle, (ruins, like all the rest) is great to explore. There are many interesting sights. Like the guard area built of stone, and one for the dog as well.
. Cool sites from outside

, inside
, and the heights
.
Of course, there was, and is, one main reason for going to Blarney, and that would be the well loved stone of renown. The Blarney Stone. And why does one go toe see the Blarney stone? To kiss it, of course.
And to get an idea of how far up you are, as you lean over BACKWARDS and kiss the bloody stone, well here is another view from the ground looking up!
See that little square up there? That is the same sign you can see by my head in the previous picture! Yep, and all you have to do is lie on your back, hold onto the rails, lean way back and kiss the stone! And from another angle...
After that was a mad dash to Waterford to check out the crystal, sadly we arrived a wee bit too late to do much more than see the gift shop. And there were some impressive sights to see there.
Each one of these pieces of glass cost more than my house!! The wine glass is almost as tall as me. And the harp can actually be played!
After Waterford, we head north to "Oh my God!! Kilkenny!!" "The Bastards!" ( uh, OK, bad Southpark joke ) However, no jokes were actually made while in Kilkenny. There we rejoined Ben and Megan, then hit the town. That night I was treated to a great birthday dinner of ostrich. Quite a good meal, and a great evening with the McMenamin crew.
Day 4 (1/11/2002) : Again our crew was separated. Ben and Megan, being the advance party, had already seen Kilkenny. After giving us their travel recommendations, they headed in the direction of Dublin. Now it was time to explore Kilkenny. There is a rather cool castle there called.. well, you figure it out.
Sadly, they do not allow photos, so all of these are ones other people have placed on the web. For some reason, Kilkenny Castle was strangely reminiscent of the Louvre in Paris. The same structural design, and tons of art. They even tore down one tower to extend the hall so the could hang more pictures!! There is also some excavation in the from of the castle uncovering the original building. (Just like the Louvre.)
After that we headed on out to St. Canice's Cathedral. Yet another place where pictures were not allowed. (I still think they do that to sell more post cards.)
The next stop was the Browneshill Dolmen. What is a dolmen you ask?
(Click on the link) This may be the largest, but as we cruised the countryside, a few more smaller dolmens were seen in fields.
After the big rock, we started trekking for the east coast of Ireland. Destination : Glendalough, [glen'dulO"] County of Wicklow. Now this is one of the main reasons a return to Eire is in the books. We arrived too late in the day to see it all, and it is an incredible place to see. Again we became a foursome as we found the other two wandering the grounds of the Monastic City. They had been there for a while, which is a good thing, as some of the places in Glendalough were only seen from the images on their camera. Here are a few from both.
There is a great deal of Glendalough that was missed. Joyce and I did not even make it down to the lakes. So if you want to see any of that, here are your choices. 1) Look it up on the WEB. 2) Go to Ireland and see it yourself. 3) Wait til I go again. (personally, I would go with option 2.)
That evening ended in Dublin at a Ceili, where I danced both my left feet off. (Not like I was given the choice. :) )
Day 5 (1/12/2002) : Dublin was here, and yet another major part of the trip was about to take place. The Guinness Factory. Now Guinness is a popular draft, just not one I drink. However, to have passed up a trip to the factory would have left a great number of my friends in shock. And I am glad I went, it was a great tour.
OK, this page is still in the works, but for now, here are the Cliff Notes on the rest of the trip.
Later that day was Christchurch Cathedral in Dublin
. From there is was off to Trinity College
to see the Book of Kells. The next day began at Dublinia, a fun place about Dublin's History. We got there early and goofed off.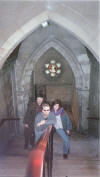 After that, we headed out to Newgrange. This is a relatively old place (A wee bit more than the Pyramids) where people may have been put to rest.
That was the end of the touring, the next day it finally rained, but since we were on the way to the airport, it really did not bother us all that much.
Before I finish up, a great place on the WEB about Irish Castle and places to visit is http://www.historic.irishcastles.com Now off I go.